Martin Ajei is a philosophy professor at the University of Ghana, where he directs the Department for Philosophy and Classics. When he received the shocking diagnosis of prostate cancer, he knew that he wanted to get the surgery done abroad. He heard of the possibility to be operated by the Da Vinci surgical robot, which is not available in Ghana. During his research, he came across our information portal and asked us for help. When Martin Ajei arrived in Germany, Lukas Hoffmann, the founder of Clinic Compass, met him.
Clinic Compass: Dear Martin Ajei, how did you find out about our Clinic Compass website?
Martin Ajei: When I talked with a very good friend of mine, Werner Kahl, who works for the University of Hamburg, about my disease, he said: There is a very good German website for patients from abroad named Clinic Compass. You can find it online very easily. I searched for: "Treatment for Prostate Cancer in Germany" on Google and Clinic Compass was displayed. I liked the idea of a Clinic Compass. In my own interpretation, this is a compass for the identification of the appropriate clinic for different diseases.
Clinic Compass: That is exactly what it means! What happened next? You contacted us via email and described your situation. To what extent did our exchange influence your decision-making?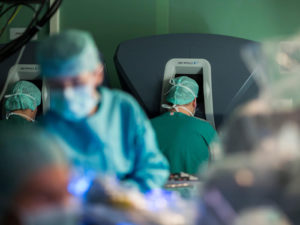 Martin Ajei: You asked me, whether I have any preference for a certain city in Germany and I told you: I would like to go to Hamburg, because of my friend Werner Kahl, or to Bonn, because I also have friends here. You recommended a clinic in Hamburg and one here in Bonn. The surgeons in Hamburg have a lot of experience with the Da Vinci surgical robot, but it was too expensive for me. You told me that the clinic in Bonn* only started using the Da Vinci recently, but that the head surgeon used to work at another clinic where he had gained experience with the robot, which is why you recommended this clinic as well. This information was very valuable to me.
Clinic Compass: After you decided to go for treatment in Germany, how did you proceed? How did you organise your trip? Who booked the flights and the hotel? 
Martin Ajei: When I contacted the hospital, they told me to transfer money in advance, which I did. I was not in Ghana at that time, so my wife transferred the money. An employee at my Department who usually books my tickets, which she also did for this trip. My wife found the hotel for me. So actually, I did nothing. I am a bit lazy when it comes to these organizational issues.
Clinic Compass: You have already been to the clinic for your preliminary examinations this morning. What was your first impression of the doctors?
Martin Ajei: I think that you did a great job with your clinic recommendation. I feel I am in good hands with the doctors. Everyone in the hospital seems to work very efficiently. The surgical team told me all the facts and left the decision concerning the treatment method up to me. And they said: Whatever decision you make, we will do everything to get the best outcome for you.
Clinic Compass: The surgery is tomorrow. When are you going back to the hospital?
Martin Ajej: I will be the first one to get surgery tomorrow at 8.00 a.m. The doctors told me to come in at 6 o'clock. That is very early, which is why we will go back there this evening and spend the night at the hospital.
Clinic Compass: Dear Martin, we wish you a successful operation and a quick recovery!
Addendum: One day after the surgery, Martin Ajei wrote:
"Lukas, the operation is done, and all went well.
The surgeons say that the first laboratory analysis that was done during the surgery indicate that the cancer had neither spread to the margins of the gland nor to any of the organs nearby, so they were able to save all the nerves!
I am very relieved. Thanks once again for the contact. I am indeed grateful for it."
*With this article, we want to show how treatment is carried out in Germany. It is not meant to advertise for a certain hospital. That's why the concrete name of the clinic, which Martin Ajei visited, is not mentioned.