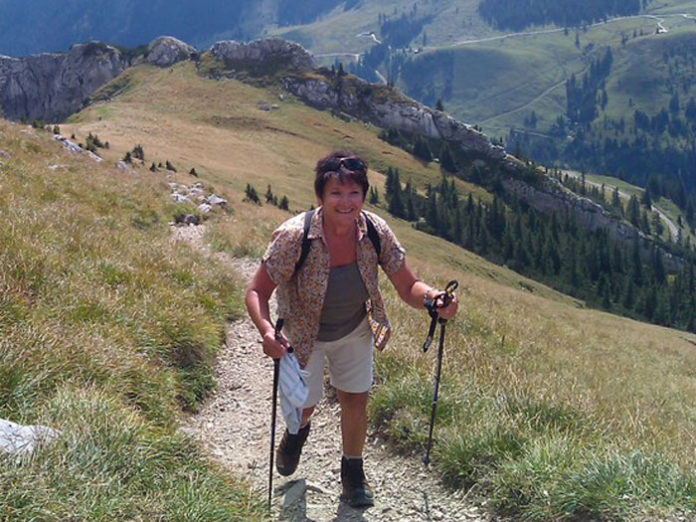 Edith Hoffmann had two total knee replacements at the age of 59. In this report, she talks about how she experienced the surgery and the time after.
"My boss said I'm a bloodthirsty woman because I like to watch surgeries." This is what Edith Hoffmann, born in 1946, says about her time as a doctor's assistant. Until 2019, when she was 73 years old, she worked as a surgical assistant in the same orthopedic practice in Erding near Munich. Her first boss also performed total hip replacements, her last boss had specialized in the knee. Thus, she is also an expert – and affected in both joints.
From table tennis to golf
Edith has had problems with her hip since birth, she was a "weak child", that's what it was called at that time. "I was only able to walk when I was three, due to a hip dysplasia that wasn't diagnosed." But then, Edith was an agile "completely normal" sportive child.
The complaints occurred in her twenties. "When I was 22 or 23 years old, I played table tennis in the regional league and practiced three times per week." It began with low back pain and she started to limp. An X-ray scan uncovered the hip dysplasia. As a result, she had two joint-conserving surgeries in February 1972, each with a varising and a rotation osteotomy, a correction. "That was a lengthy thing. I had a pelvic plaster for ten weeks with a hole down there for the digestion."
Today, like many other affected people, she says that hip surgery is easier than knee surgery. "You can rotate the hip joint, but not the knee joint.", the trained doctor's assistant with an extra training as surgical assistant explains. "In knee surgery, a lot more tendons and muscles are cut than in hip surgery."
Hill-walking with two artificial knee joints
After her hip surgeries, she stopped playing table tennis. Some years later, in 1978, she started golfing. At that time, the nine-hole golf course in Erding-Grünbach, one of the first in the outskirts of Munich, had been in operation for a few years. A few years ago, she stopped golfing. "But due to increased spine problems, not because of the artificial joints", she says.
When her knees hurt more and more at the end of the nineties, Edith attributes this to the hip surgeries. "They were definitely not the best at the time. The axis wasn't right, so that I got bandy legs due to the uneven stress. Now, I have beautiful straight legs again and wear short skirts!"
She has straight legs thanks to her surgery on both knees at the same time in April 2005. Interestingly, her boss was against it. "Do that when you're 70 years old!", he recommended her and gave hyaluronan injections to his employee of many years he didn't want to go without. "That brought a bit of relief, but actually didn't help, because my bones were already rubbing against each other." An arthroscopy was out of question as well. "This is done pretty quickly today. But often, it only alleviates the pain for a few years and only if there is enough cartilage left."
Edith's job as a surgical assistant was more than exhausting: her boss performed seven to eight surgeries per day. Edith stood next to him and assisted him, in outpatient surgery as well as in the hospital. "You have to stand six to seven hours. I went to the toilet more and more often just to sit for a while. But at one point, I just couldn't do it anymore." She wasn't able to go hiking nor to play golf. "It just was no fun with the pain."
"When I want to do something, it has to be right now."
In agreement with her boss, she searched for a surgeon. "I already knew that I wanted to get both knees done at the same time. When I want to do something, it has to be right now." Her expert knowledge also led her to choose the total knee replacement. A sled prosthesis is only implemented when the joint is not completely damaged. That wasn't the case for me."
Her first destination was a knee specialist in Leipzig. The head doctor told her that for such a double surgery, one had to be physically and mentally strong, and he added: "You're the right person to do this." Edith remembers that he was a bit mistrustful because of her expert knowledge. But she liked him immediately.
According to the recommendation that you get for all operations, she got a second opinion, this time in Langenau near Ulm. The professor immediately told her: "Yes, no doubt, the double surgery is just right for you." Now, Edith was spoilt for choice. She trusted both surgeons. Eventually, she chose the professor in Langenau who already operated on three to four knees per week in a small 80-bed-hospital. In accordance with her robust and "bloodthirsty" nature, she would have liked to only have a spinal anesthetic and act as an assistant herself! However, that wasn't allowed after all.
"I would do it again." Is her conclusion, even though it was harder than she had thought. On the first day after surgery, she had to stand up, but she still had circulatory problems. "There was a significant loss of blood. I had to take painkillers for four to five days." Putting weight on the knees also took some time, but physiotherapy could be done right away.
After ten days in hospital, Edith stayed in Bad Wiessee for rehabilitation in the Medical Park Clinic am Kirschbaumhügel for four weeks. A few days before discharge, she could walk without crutches. However, she still couldn't bend the left knee without problems. Thus, the same surgeon performed another surgery on her half a year later: a so-called mobilization was done under anesthesia, which means that the knee is bent. "That was worse than the total knee replacement.", Edith remembers. She stayed in hospital for four weeks this time, four further weeks in the rehabilitation hospital, this time in the Argentalklinik in Isny in the Allgäu.
Lots of exercise and a sunny disposition
Edith is very content with both her artificial joints. Despite all the tribulation after the surgery, her sunny disposition and her pragmatic nature was very helpful. "I went to physiotherapy for one year, then I didn't want any further appointments. I hate appointments. But the manual therapy was necessary because before surgery, my muscles were shortened over the years. I shouldn't have waited so long to get the surgery done. You shouldn't expect a wonder, but you shouldn't wait too long either."
After all, seven years passed from the first complaints to the surgery. "Like my boss, many people still recommend a late surgery. This is nonsense. The total knee replacement certainly lasts 20 years. I will get a revision surgery done when I'm 79 years old. But until then, I'm able to move", the 75-year-old says and laughs. Of course, her boss was also happy that his loyal employee was fully able to work again after the operations. Today in 2021, she believes firmly that she can still do everything with her "old knees" at 79 years old and won't need any new ones!
Edith is convinced that she is feeling good because she is constantly moving. "Sometimes I'm even taking it a bit too far and have to tell myself to relax and take the stress off my knees. Therefore, she drives to her hut in Walchsee with her husband and their cats for several days every month. "I'm more equable there, I can relax better. That was always my goal during rehabilitation: I absolutely wanted to see the blossoming alpine roses again during a hike." Of course, she uses walking sticks to relieve her knees, especially going downhill.
Cycling and Samba drumming
Cycling works best for her. Every year, her husband organizes a one-week cycling tour with friends, during which 60 to 70 kilometers are completed every day. Of course, Edith didn't want to miss out. That's why she had a crank which is two centimeters shorter built onto her bicycle, as she can bend her knee only about 90 percent, whereas she can stretch it completely. "It's great.", she comments happily. "But you still have to do something. I still practice every day bending forwards on the stairs."
However, Edith also reaches her limits despite her desire for action. "I cannot kneel down. That's very painful, although I still have my own kneecap. I cannot crouch down either. When I clean the floor at home, I have to lie down on my side." Edith is inventive and fully accepts her artificial knees. "Thanks to the rehabilitation sports, the bending has improved a little bit until today in 2021. She cannot walk quickly yet, but she can do Nordic Walking with sticks. She does gymnastics on a daily basis to keep her knee mobile.
Besides that, Edith has had an exhausting unusual hobby for years: She plays the drums in a Samba group called "Obsessao", which means "the obsession". "We 'sambistas' practice 2.5 hours per week in Erding.", she reports. "When I play the drums, I use knee protectors. You have to stand the whole time, do some dance steps and really work up a sweat." That's good for the circulation of the knee!
This experience report is a slightly modified excerpt from the book "Mut zum neuen Knie". Text: Heidi Rauch, Pictures: ©privat